OHMC2022 Project announcement

This year, we have an updated version of last year's SwagBadge, with a custom addon we're calling a Rockling, that can act as a Theremin. But that's not all! We also have the Party Button addon too.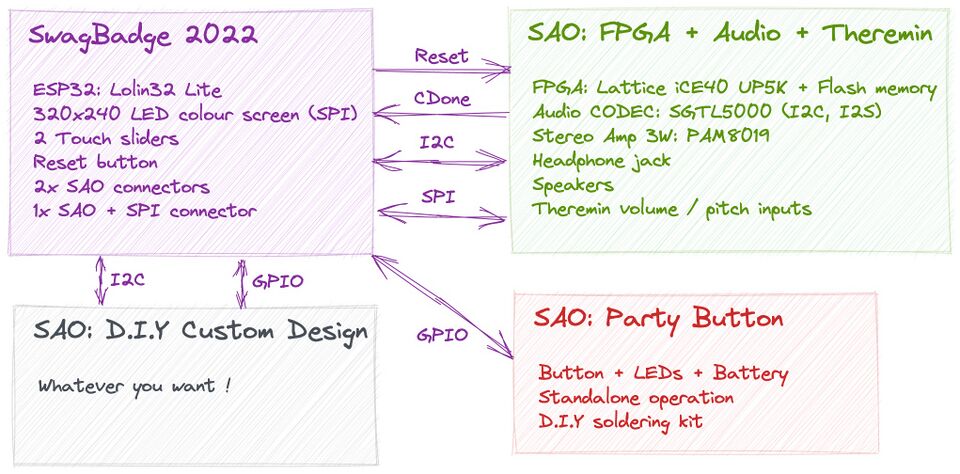 Overview
History and Aims
The OHMC2022 aims are to
build upon last year's efforts,
focus on Simple Add Ons (SAO),
deliver our first OHMC FPGA project and
align with LCA2022's theme of community engagement.
OHMC2021 was our first LCA on-line mini-conference and opening up our development efforts prior to the day of the mini-conference. This year we aim to build on the 300 SwagBadge 2021 already out there.
Who can join in?
YOU!
Our overarching goal every year, is to help introduce open hardware to conference goers who have had no experience with hardware before, as well as support those who want to take their knowledge further.
This year is no different. Whether you want to get involved just to hold a custom made microcomputer in your hand and take a look at the code that drives it, or if you want to solder your own doodads and twiddle the frobnitz on the FPGA, you are welcome.
We are working on building up a community of hardware folx who are able to help each other during the conference and throughout the year, hosted on [Discussions].
What's in the kit for 2022
The OHMC for 2022 will have a hardware kit posted out to participants in the workshop, for a fee which covers the cost of the boards and postage.
What does the hardware kit look like? It's a Swagbadge again, now in a more penguin shaped form factor. It has:
a LolinLite ESP32 microprocessor, giving you Wi-Fi and Bluetooth
runs micropython (no special IDE required)
SAO connection points
a single large LCD screen (a change from last year's double screens)
two capacitive touch sliders
a belly-button reset button (no more fumbling around to find the somewhat obscured location of last year)
Supported by an open-sourced embedded network framework, the Aiko Engine for microPython
With a number of SAO connectors so you can extend and add on your own hardware components
But wait, there's more: we're also aiming to supply the "Rockling":
a fish-shaped PCB SAO for the Tux Swagbadge to hold
which has an FPGA on board
and audio connectors to connect to a speaker/headphones
and hopefully software to let it act as a Theremin
We'll also have the usual suite of brilliant talks about projects and ideas in the open hardware space by people who are experts in their field.
Building upon OHMC 2021
We have some unfinished business with OHMC 2021 ... we didn't get to seriously build or help anyone else to design and build any Simple Add Ons (SAOs).
Additional images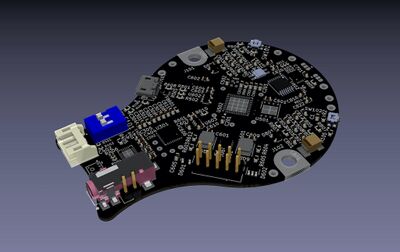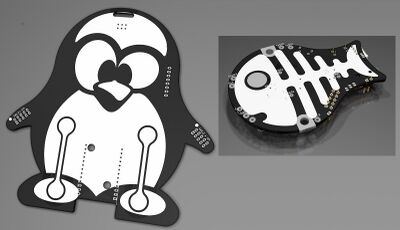 Safety precautions
When using any hardware ordered off the internet, you can't be quite certain what software might be present on it. Before shipping these badges to you, we reflashed a fresh copy of MicroPython onto the Lolin32.
The framework running on the badge is Aiko, which is open source.
The software on the badge is available on the CCHS repository, also all open source.
The badges are designed to communicate over MQTT - a lightweight standard for messaging on IoT devices, but we are aware of privacy considerations: you don't want anybody able to control your badge from afar. The swagbadge protocol provides support for encrypted messages.
More information