OHMC2022 Project Status
Last updated on: 2022-02-17 20:00 --- Status: Finalise hardware testing and MVP Firmware
2022-02-17 Project Status Update
Summary
For the currently ordered hardware kits ... assembly is now complete. We are in the final stage of hardware testing prior to shipping. The Rockling MVP Gateware / Firmware (essentially Foboot) is ready. The initially shipped SwagBadge firmware will be an update from OHMC2021, taking into account the greater memory footprint for the larger color TFT LCD screen.

We do have more unassembled hardware kits. However, first we need to complete our current LCA2022 delivery commitment to those who have already registered. After we've completed delivery for LCA2022, we'll review our stock and options then.
Rockling FPGA audio SAO details
Hardware
As discussed during the conference, the problem on the Rockling with high current draw and 50% yield with the boards was because Jon didn't realise the oscillators were polarised, and he installed them in random orientation! Now that we've tracked that problem down and reworked the oscillators on the failed boards, almost all the Rocklings have passed our initial testing.
The remaining hardware task is to test the operation of the Audio Codec on each board, which will be done once the firmware to communicate with the codec is complete.
Gateware / Firmware
The Rockling FPGA Bootloader is a variant of Foboot, which is configured and tested for the Rockling differences. That is all we need to flash on the device before shipping and is ready to go. AndyK has had to develop Gatewate and Firmware that acts as drivers and control software for the Rockling hardware, e.g FPGA, Theremin Analogue Front End input (AFE), I2C DAC, I2C Audio Codec output (SGTL-5000) and host-side support. The final piece to complete before shipping are the I2C commands for the Audio Codec, which has turned out to be more complex than original anticipated. Once that is complete, then all the Rockling hardware testing can be completed.
SwagBadge 2022 details
All the individual SwagBadge components are tested ... only a final complete device test to do for each one (just to be sure). The minimal viable firmware needs to (1) enabled Wi-Fi configuration for your network and (2) support Over-The-Air (OTA) firmware upgrade ... both of which exist from OHMC2021. A new TFT LCD screen driver (providing backward compatibility with the SwagBadge2021) needs to be completed ... and not exceed the memory size available to microPython.
The Party Button SAO details
The party button required some modifications to the PCB. There are 3 steps to be performed on each board:
Cut a track and strip back some soldermask. Status: COMPLETE
Solder in place a jumper wire to the base of the transistor. Status: IN PROGRESS
Solder in place a jumper wire to the GND connection. Status: NOT BEGUN
These modifications need to be done in a way that still allows the other parts to be installed on the board. Jon's son Tom has been working on these boards. They should be complete by the end of this coming weekend.
2022-01-08 Project Status Update
Testing all hardware and completing Rockling FPGA audio SAO assembly
Summary
Disappointingly for all concerned, due to delays and development problems we won't be delivering the hardware to you in time for LCA2022 on 2022-01-14 😱 We are in the final stages of hardware production manufacturing and testing, and we estimate we'll start shipping in late January.
On Friday 2022-01-14, all the talks will go ahead as scheduled. Our presentations will also include some details about the hardware challenges we've faced!
We sincerely apologise for missing our deadline: we're sorry that we let you down 😢 Producing a satisfying quality result where the hardware has been thoroughly tested so you have a kit that works as advertised is paramount... and we hope you agree too. We are looking forward to delivering them, collaborating on developing software, along with building fun and interesting applications with you.
Hardware components
The project consists of three pieces of hardware that can be used together or individually ...
Rockling FPGA audio SAO: A Lattice iCE40 UP5K based development board (same FPGA as the FOMU used in Tim Ansell's workshop) with an Audio codec and amplifier with headphone and speaker connectors. Also includes a Theremin front-end with volume and pitch controls connected to the FPGA.
SwagBadge 2022: An ESP32 based development board with a 320x240 colour TFT LED screen, 2x touch sliders and 3x SAO connectors. Also intended to be a primary user interface for the Rockling FPGA SAO. Compatible with last year's SwagBadge 2021
The Party Button SAO: A beautiful D.I.Y soldering kit with a button and LEDs that can operate either standalone or connected to a SwagBadge
Rockling FPGA audio SAO details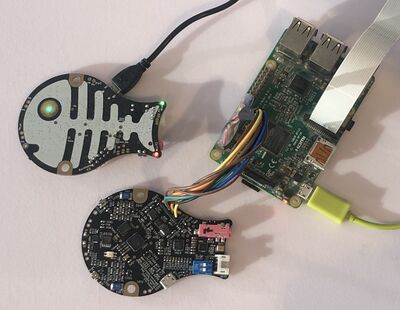 Note: These boards are being assembled using Jon's open-source pick-and-place machine.
We made a mistake when ordering the production solder-paste mask. Fortunately, the reorder time delay was avoided with an inspired idea by Jon, which involved hacking the prototype solder-paste mask to match the minimal production changes.
43 out of 50 Rocking PCBs have been fully assembled, but...
Unfortunately, we are only achieving around 50% yield after testing due to the misplacement of a very tight tolerance 48 MHz oscillator. That is a terribly low yield. Fortunately, carefully reseating that oscillator works half the time, bringing our yield up to around 75%. Better, but not good enough. We are still performing diagnosis to completely understand the problem ... so that our yield will exceed 90%, preferably get to 95% or more (which is two or three failed boards out of 50). It'll take around a day or so (estimated) to figure out this problem.
Right now, we have 11 mostly tested Rockling PCBs, with another 16 that look promising ... for a total of 27 good out of 43 total made. Leaving 16 failed Rockling PCBs that need some rework.
The Rockling FPGA gateware and firmware development to fully test out the boards is mostly done. Only the I2C commands for the Audio codec IC (SGTL5000) needs to be completed. At which point we'll be able to take the good Rockling PCBs from "mostly tested" to "fully tested". It'll take around 2 to 3 days to complete the testing firmware and then a couple of days to test and perform any failure diagnosis and rework. This is based on the experiences of the first dozen we made and is hopefully a reasonable predictor for the remaining boards.
We'll need to assemble a minimum of another 7 and perhaps around 16 more Rockling boards (to account for failures).
SwagBadge 2022 details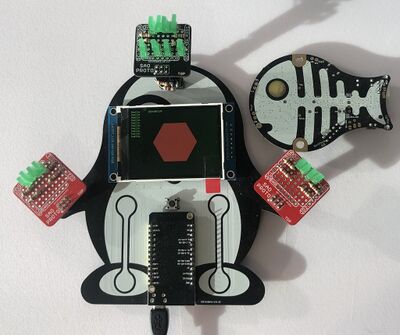 We made a mistake and for the production PCB run sent the wrong Gerber files. Another production run was ordered and delivered.
All ESP32 Lolin32-Lite and colour TFT LED screens have been tested prior to assembly. We never get 100% working parts when larger quantities are ordered. So we only solder them to the PCB after the components pass individual tests. Those individual component tests have been completed
All 50 SwagBadges have been assembled and await final testing. There is a couple of days required to complete the test firmware development and final testing of every SwagBadge. We anticipate close to 100% yield.
The Party Button SAO details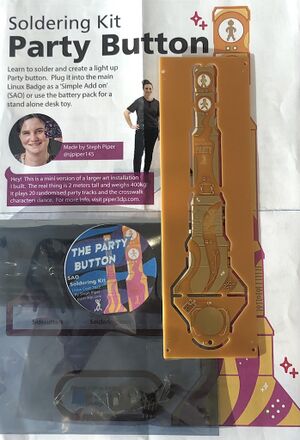 There was a small design mistake in the production PCBs. Fortunately, we can fix this by cutting a track and adding a bodge wire, which takes approximately 5 minutes per PCB. For 50 kits, this will take half-a-day to perform the repair
All 50 kits have been packaged up with documentation for D.I.Y assembly (simple soldering)
FAQ
When will there be more precise shipping date ?
Right now we are ensuring that our presentations and logistics for the OHMC on 2022-01-14 are complete. On-going manufacture and testing will ramp up again after that date and we'll re-estimate again at that point. We will continue to update this status page as we make progress.
What if receiving the OHMC hardware kit after LCA2022 is unacceptable ?
We will organise a full refund. We are aiming for this project to have value, longevity and support well beyond LCA2022 and hope that you'll remain as keen as we are.
What if I missed registering for a hardware kit and would like one ?
We acquired additional hardware parts and will manufacture a limited number after LCA2022. After the original batch has been delivered, we will announce further details. Stay tuned to our twitter account or keep an eye on this here wiki.
Will we ship to international addresses ?
Yes, for post-LCA2022 orders. However, we ask that you cover the cost of the additional shipping charges.