Swagbadge2021 Backstory
LCA2021 #swagbadge backstory
Everything about 2020 has been turned upside-down and inside-out 🙃 Feels like the last normal (and awesome) thing that happened was LCA2020. Wow ... that was a good time 🎉
The Open Hardware Mini-Conference (OHMC) team was keenly looking forward to LCA2021. We have very fond memories of the Arduino MiniConf in 2013. We did a road-trip from Melbourne, the LCA2013 venue at the ANU was excellent and we were looking forward to visiting Canberra again. Sadly, LCA2021 was postponed 😢, but then went virtual 🤖 ... and then a surprising thing happened ... the LCA2021 organizing team reached out to us and asked if we'd like to consider a special project 😲

Melbourne was deep in CoVid-19 isolation 🤒 and the opportunity to start a new hardware project for our friends at LCA was just the shot-in-the-arm that we needed 💉 The LCA2021 organizing committee asked us to prepare a proposal for a conference hardware badge that could be manufactured and sent to a limited number (200) of LCA2021 attendees as part of the swag in time for the conference. So we did. They accepted ! And so the #swagbadge was conceived !!

We've been thinking about an LCA badge (well, more than just thinking !) for years, perhaps going back to LCA2012 in Ballarat (another one of our favorites) and the LeoStick swag.

Now, since it costs nothing to make additional copies of software ... the number of badges was bumped up to 300 🤖🤖🤖 ... (we anticipate some late nights assembling, flashing, packing and posting) 🙄 Not wanting anyone to miss out on the fun, Alec came up with the idea of the #dagbadge (a simple BoM) that anyone can order for themselves immediately and join in the fun, leading up to LCA2021 and beyond 🚀 The #dagbadge will be particularly important for anyone wishing to play along and contribute to the hardware (see SAO) or the firmware, before we ship the actual #swagbadge.

Unfortunately, the traditional LCA Open Hardware Mini-Conference morning workshop assembly madness won't be happening this time, but maybe we can still switch it up and figure out a way to involve everyone and perhaps encourage both hardware and software collaboration and contributions. Something different from what we've always done before (which was hacking frantically in our respective caves until the morning of the OHMC). We're thinking something along the lines of ...
Develop the #swagbadge hardware in the open ... we'll detail the journey, the highs 🎢 and lows 🤯 of delivering a hardware project
Develop the #swagbadge software in the open ... encouraging collaboration and contributions 🧪💥
Provide several SAO connectors (power, I2C and a couple of GPIO pins) ... so that you can create and share your own custom hardware add-ons to the #swagbadge
Provide a simple "store" where people can upload and download simple application examples to share with others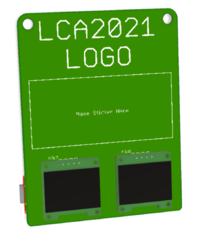 Very first 3D render 2020-09-02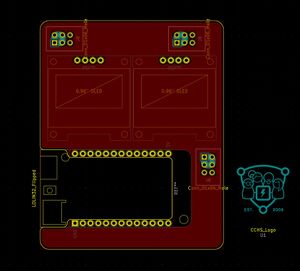 Recent PCB 2020-09-30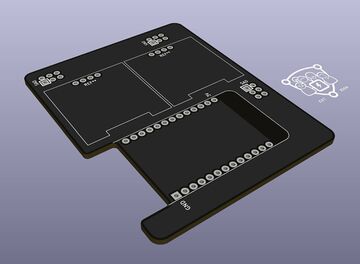 Recent 3D render 2020-10-01